2017 London to Paris
In September of 2017, 4 friends (Christine, Aleda, Joel and Fenella) decide to cycle from London to Paris in cold and wet October, in 24 hours. We called ourselves the RCC Nightriders, and that year we raised funds for breast cancer support. We carried our overnight provisions for the Newhaven-Dieppe ferry crossing, and our friends Fiona and Lisa followed on the Eurostar with the rest of our luggage. Little did we know that this would be the first leg of One More City.
Our London to Paris adventure began at the Rapha clubhouse in Soho, after an evening of fretting about what kit to bring, last minute bike repairs and obsessive checking of weather reports. Excitement tempered with a fair degree of anxiety would best describe our collective mood.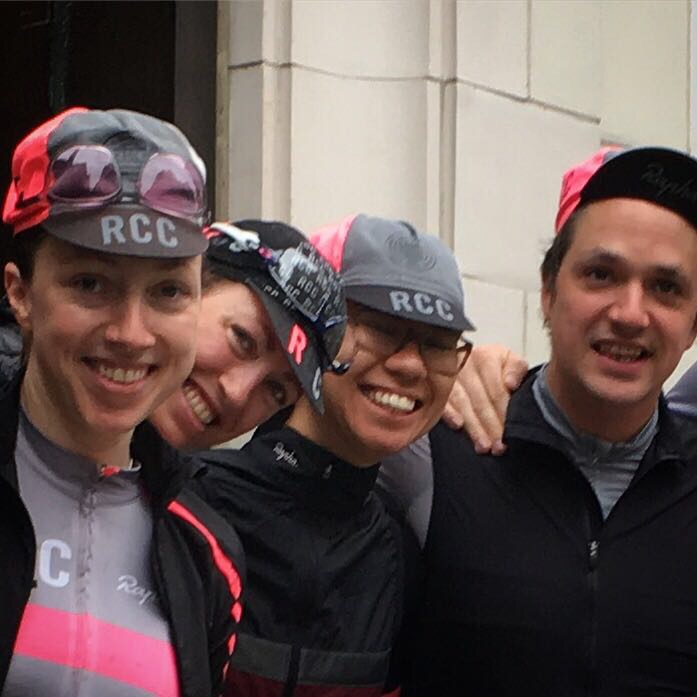 We were kindly accompanied by our able domestiques Luke and Ian, who delivered us safely to Newhaven. A beautiful 100k ride through the rolling lanes of Kent. The torrential rain predicted for the evening arrived early and suddenly, and with such intensity it was almost comical.
We arrived in Newhaven around 6pm, leaving us a few hours to unwind at a B&B before the overnight ferry. Within minutes of arriving our room looked like Hurricane Ophelia had passed through; wet kit everywhere, every plug commandeered to charge 4 sets of Garmins, lights and phones.
As we set off to the port, the rain started again, and we tried in vain to stay warm and dry as we queued with the cars to get through passport control. We managed a sprint through Lidl to pick up a few more provisions for breakfast, and then were informed the ferry would be leaving late due to the increasingly appalling weather conditions. With the last minute trip to Boots for motion sickness pills looking more inspired by the minute, we cycled up the ramp onto the ferry, which felt like climbing Swains Lane on a Wednesday morning on a single speed thanks to the gale force headwind.
As the boat rocked up and down and we looked anxiously at the waves from the window in our cabin, we started thinking about Plan B in case the storm did not let up. But thankfully after a few fitful hours of 'sleep' and another panicky post Ophelia re-packing of bags, we were spared the Premier Inn in Dieppe and set off around 5am through deserted streets.
We shortly reached Avenue Verte, a car free disused railway line, and stopped at a bench for breakfast of the overnight oats and cold brew we'd carried from London. Riding completely on our own along a largely tree lined path in the pitch black on very limited sleep, complete with various unidentified animals crossing the path, was an exercise in concentration.
As day broke and the towns started to come to life, we were able to stop for what would become the second of the five breakfasts we consumed on the 170k route to Paris. The weather was a massive improvement on what we left behind in the UK, although a glorious headwind arrived just in time for a flat, exposed section of road. Thankfully one of us loves suffering in a headwind and we were all quite happy to leave her on the front.
As we approached the outskirts of Paris, and started to contend with traffic jams and creative driving, there was an audible pop, and then ensued the hunt for a new tyre. Thankfully Decathlon was just down the road ; note to selves, next time bring a spare.
Crossing the Seine at twilight provided a moment for reflection; elation that the end was in sight, but also sadness that our amazing journey was almost over.
The final stage of route involved negotiating the Arc de Triomphe on a Friday evening, which could only be described as an exercise in nerves of steel and assertiveness, but we stayed together, stayed sharp. Once safely on the other side, it was time for obligatory victory photo, and meeting up with friends to celebrate the end of an epic journey.